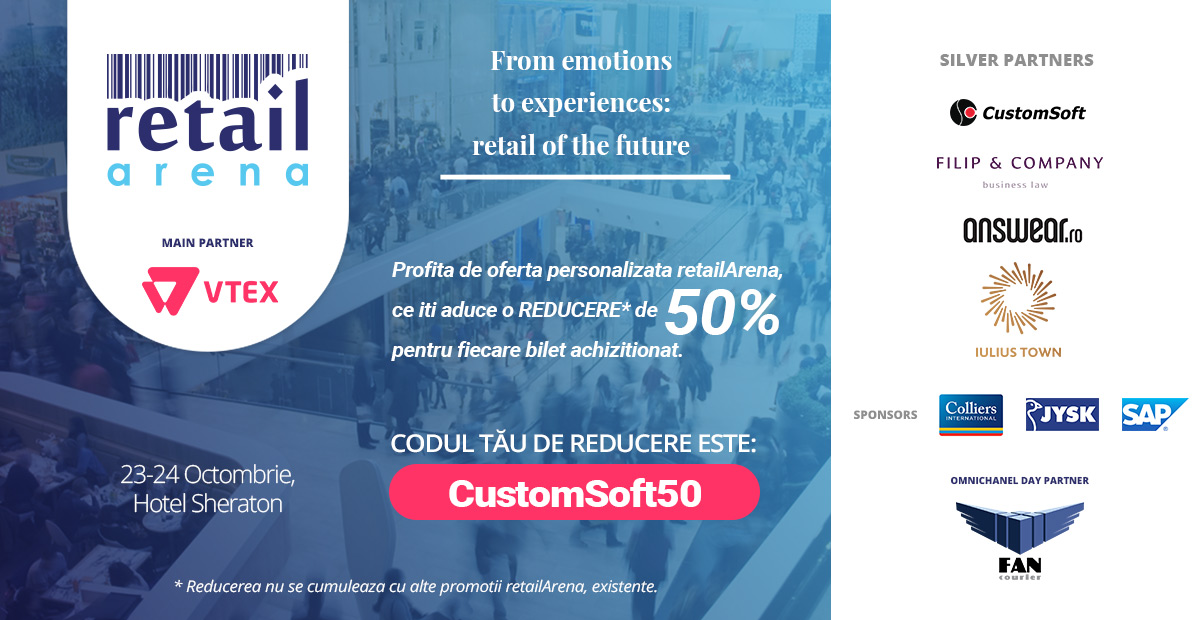 CustomSoft is offering you a voucher that provides a 50% discount for the entrance ticket of the retailArena conference.


---
Our CEO, Octavian Dumitrescu, is one of the speakers this year at retailArena.








---
Rafael Campos – Sales VP VTEX
Cornel Morcov – Chief Commercial Officer FAN Courier
Iulian Stanciu – CEO eMAG
Simina Niculita – Director Retail Agency Colliers Romania
Alex Bratu – Country Manager JYSK Romania
Valentin Radu – CEO & Founder Omniconvert
---
The conference takes place for two days, on the 23rd and 24th October 2019 at Sheraton Hotel in Bucharest.
This year's slogan, "From emotions to experiences: retail of the future" sums up perfectly the subjects that will be discussed during the event, therefore CustomSoft is happy to be present at retailArena!
The schedule for the event is:
Day 1 – 23 October
Marketing Day
08:00 – Registering attendees
09:15 – Mega tendencies of the retail market; how does the future consumer look like?
10:15 – Innovations in retail – triggering emotions
11:00 – Coffee break
11:15 – Different strategies for different counties: expand intelligence to national level
12:15 – Sustainability and "green customers"
13:00 – Networking lunch
14:30 – Workshop Marketing Day
Day 2 – 24 October
Omnichannel Day
08:00 – Registering attendees
09:15 – Expanding and improving delivery methods on a national level
10:15 – Multichannel, the new normal. How does generation Z buy
11:00 – Coffee break
11:15 – Customizations, automatizations, and platforms for retail
12:15 – How did the consumer in omnichannel change and how will he keep changing?
13:00 – Networking Lunch
14:30 – Workshop Omnichannel
Sounds interesting? Don't miss our offer and get yourself a ticket for only half of the price!
See you there.