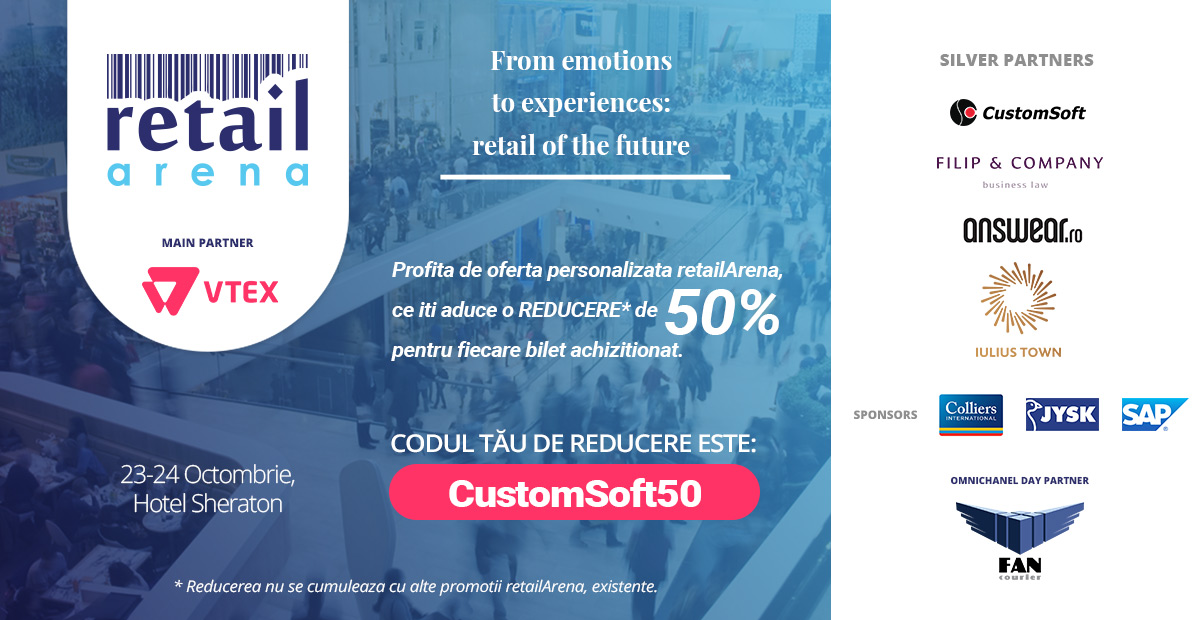 CustomSoft is offering you a voucher that provides a 50% discount for the entrance ticket of the retailArena conference.


---
Our CEO, Octavian Dumitrescu, is one of the speakers this year at retailArena.








---
Cristi Movila – Country Manager Romania VTEX
Cornel Morcov – Chief Commercial Officer FAN Courier
Narcis Horhoianu – Marketing Director Carrefour Romania
Iulian Stanciu – CEO eMAG
Simina Niculita – Retail Director Agency Colliers Romania
Alex Bratu – Country Manager JYSK Romania
Florin Filote – Director eMag Marketplace
Denisa Apreutesei – Qualitative Research Manager iSense Solutions
Valentin Radu – CEO & Founder Omniconvert
Raluca Radu – Country Manager Answear
Catalin pozdarie – Administrator – General Director Hervis Sports&Fashion Romania
Mihai Bonca – Marketing Director, Consultant and Trainer Brand Architects
Irinel Popescu – Head of Retail Department Metro Cash&Carry Romania
Raluca Puscas – Partner Filip&Company
Bogdan Marcu – Partner Retail Agency Cushman&Wakefield Echinox
Ionut Militaru – CX Business Developer SAP Romania&Bulgaria
Alexandra Ristariu – General Director Mondelez Romania
Sabin Gilceava – Negotiation Counselor Leverage Negociation
Cosmin Dan – Senior Research Analyst Euromonitor International
Oana Bejan – Modern Trade&Impulse channels Manager Danone Romania
Oana Diaconescu – Head of leasing Iulius
Ion Sturza – Founder Fond de Investitii Fribourg Capital
Calin Clej – Marketing Capability Development and Sustainability Director Cris-Tim
Raluca Hartmann – General Director KiK Romania
Roxana Puia – Marketing Director Asociatia Environ
Dragos Popa – Senior Project Manager Roland Berger
Silvana Helal – Consulting Director Enterprise Concept
Dochita Zenoveiov – Brand Innovator Inoveo
Laura Stefan – Director, Non Traditional Business Mastercard Romania
Raul Filip – Procurement Director Altex Romania
---
The conference takes place for two days, on the 23rd and 24th October 2019 at Sheraton Hotel in Bucharest.
This year's slogan, "From emotions to experiences: retail of the future" sums up perfectly the subjects that will be discussed during the event, therefore CustomSoft is happy to be present at retailArena!
The schedule for the event is:
Day 1 – 23 October
Marketing Day
08:00 – Registering attendees
09:15 – Retail market megatrends; what does the consumer of the future look like?
10:35 – Innovations in retail – triggering emotions
11:35 – Coffee break
11:50 – True Customer Centricity
12:05 – Different strategies for different counties: intelligent expansion nationwide
13:10 – Sustainability and "green customers"
13:55 – Networking lunch
14:45 – Workshop Marketing Day
Day 2 – 24 October
Omnichannel Day
08:00 – Registering attendees
09:15 – Extension and improvement of the national delivery methods
10:30 – Multichannel, the new normal. How does generation Z buy?
11:15 – Coffee break
11:30 – Customizations, automatizations, and retail platforms
12:30 – How has the consumer changed in omnichannel and how will he change in the future?
13:15 – Key Speech
13:40 – Networking Lunch
14:30 – Workshop Omnichannel
Sounds interesting? Don't miss our offer and get yourself a ticket for only half of the price!
See you there.