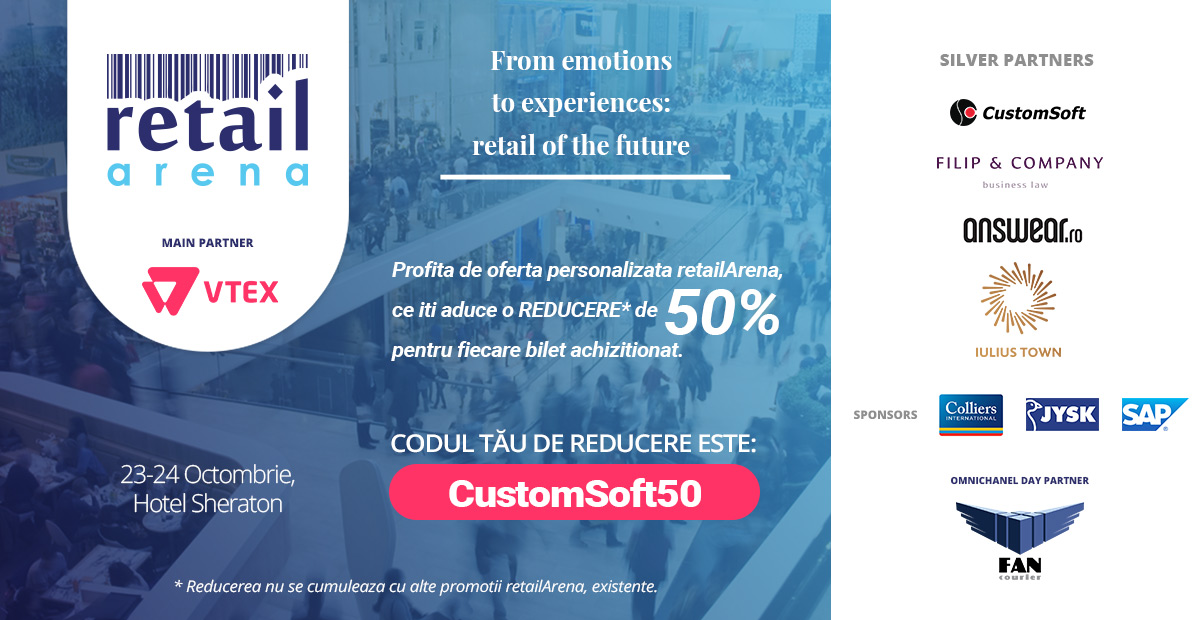 CustomSoft iti ofera un voucher de reducere de 50% pentru biletul de intrare la conferinta retailArena.

---
Our CEO, Octavian Dumitrescu, is one of the speakers this year at retailArena.








---
Ceilalti speakeri prezenti la conferinta sunt:
Cristi Movila – Country Manager Romania VTEX
Cornel Morcov – Chief Commercial Officer FAN Courier
Narcis Horhoianu – Marketing Director Carrefour Romania
Iulian Stanciu – CEO eMAG
Simina Niculita – Retail Director Agency Colliers Romania
Alex Bratu – Country Manager JYSK Romania
Florin Filote – Director eMag Marketplace
Denisa Apreutesei – Qualitative Research Manager iSense Solutions
Valentin Radu – CEO & Founder Omniconvert
Raluca Radu – Country Manager Answear
Catalin pozdarie – Administrator – General Director Hervis Sports&Fashion Romania
Mihai Bonca – Marketing Director, Consultant and Trainer Brand Architects
Irinel Popescu – Head of Retail Department Metro Cash&Carry Romania
Raluca Puscas – Partner Filip&Company
Bogdan Marcu – Partner Retail Agency Cushman&Wakefield Echinox
Ionut Militaru – CX Business Developer SAP Romania&Bulgaria
Alexandra Ristariu – General Director Mondelez Romania
Sabin Gilceava – Negotiation Counselor Leverage Negociation
Cosmin Dan – Senior Research Analyst Euromonitor International
Oana Bejan – Modern Trade&Impulse channels Manager Danone Romania
Oana Diaconescu – Head of leasing Iulius
Ion Sturza – Founder Fond de Investitii Fribourg Capital
Calin Clej – Marketing Capability Development and Sustainability Director Cris-Tim
Raluca Hartmann – General Director KiK Romania
Roxana Puia – Marketing Director Asociatia Environ
Dragos Popa – Senior Project Manager Roland Berger
Silvana Helal – Consulting Director Enterprise Concept
Dochita Zenoveiov – Brand Innovator Inoveo
Laura Stefan – Director, Non Traditional Business Mastercard Romania
Raul Filip – Procurement Director Altex Romania
---
Conferinta dureaza 2 zile si se desfasoara pe 23 si 24 octombrie 2019 la Hotel Sheraton din Bucuresti.
Sloganul de anul acesta, "From emotions to experiences: retail of the future" rezuma perfect subiectele ce vor fi discutate in cadrul evenimentului. CustomSoft va fi prezent la retailArena.
Ziua 1 – 23 octombrie
Marketing Day
08:00 – Inregistrarea participantilor
09:15 – Mega tendintele pietei de retail; cum arata consumatorul viitorului?
10:35 – Inovatii in retail – triggering emotions
11:35 – Coffee break
11:50 – True Customer Centricity
12:05 – Strategii diferite pentru judete diferite: extindere inteligenta la nivel national
13:10 – Sustenabilitate si "clienti verzi"
13:55 – Networking Lunch
14:45 – Workshop Marketing Day

Ziua 2 – 24 octombrie
Omnichannel Day
08:00 – Inregistrarea participantilor
09:15 – Extinderea si imbunatatirea modalitatilor de livrare la nivel national
10:30 – Multichannel, noul normal. Cum cumpara generatia Z
11:15 – Coffee break
11:30 – Customizari, automatizari si platforme pentru retail
12:30 – Cum s-a schimbat si se va schimba consumatorul in omnichannel?
13:15 – Key Speech
13:40 – Networking Lunch
14:30 – Workshop Omnichannel Day
Suna interesant? Profita acum de oferta noastra de nerefuzat, ia-ti bilet cu 50% reducere!
Ne vedem acolo.